Steven & Ray Naldi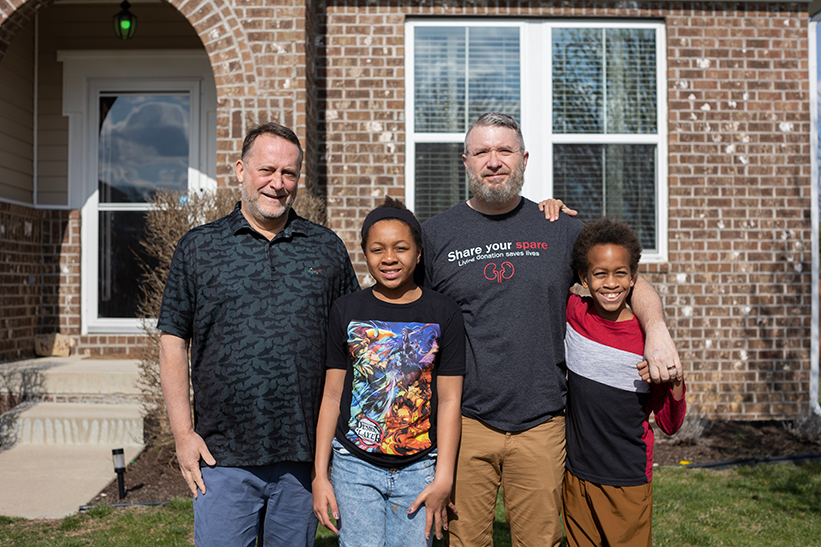 "I gave another piece of myself to the person who already has my heart."

— Ray Naldi
Steven and Ray Naldi's love runs deep.
That shows when they share stories about how they met, married, traveled extensively and eventually built a family together by fostering then adopting two children and providing stability in their lives.
But the Naldis' true affection for each other possibly shined its brightest recently when Steven's health rapidly declined.
Diagnosed with end-stage renal failure and starting dialysis, Steven needed a new kidney quickly if he had any hopes of survival.
That's when Ray, his husband, stepped up to be a living organ donor.
"He's been side by side with me every step of the way," Steven said. "He volunteered to do this. I never asked."
He didn't have to, Ray said.
"I gave another piece of myself to the person who already has my heart," he said.
An 'instant connection'
Originally from Wethersfield, Connecticut, Steven, 54, moved to Indiana 26 years ago to work in the life sciences industry. Ray, 52, a Hoosier native from Jonesboro, is a Navy veteran with a criminal justice degree who works as a paraprofessional with special needs students.
They met online 19 years ago, made an "instant connection," Steven said, and were married in 2004 in Massachusetts, one of the first of 1,000 couples united in the first state to legalize gay marriage.
Both previous foster parents, the Naldis began fostering a 10-month-old boy and a newborn girl. They eventually decided to make things official and adopted Gaven, now 12, and Ella, 11, to create a family.
"We are a family that lives on laughter," Steven said. "We smile. We joke. We laugh. I remember one day, Ray was leaving home and rang our Ring doorbell. He said, 'I'm leaving you and I'm taking the kidney with me.' I got the video and just laughed hysterically.
"Humor has really gotten us through everything."
Steven's need, Ray's gift
Last year, Steven was hospitalized with type 2 diabetes and extremely high blood pressure, a condition that worsened month by month and ultimately led to rapid renal failure. Within six months, he was diagnosed with late-stage renal failure and started dialysis immediately.
"I had dialysis for the first time then I went home and mowed the lawn," Steven said. "I was an extremely healthy sick patient."
He spent 10 months on dialysis and the search was on for a new kidney. But time wasn't on his side, so Steven didn't consider joining the transplant waiting list. Family members were tested for a possible living kidney donation but no one was a match.
"When I knew we were the same blood type, I knew I'd be the person," Ray said. "I knew I'd be happy to do it."
With all tests complete, Ray called Steven during a dialysis treatment to tell him he was a perfect match. A date was set for their recovery and transplant surgeries.
"They called his kidney a Lamborghini kidney for me," Steven said.
A deeper connection
The day they checked into IU Health Methodist Hospital, the Naldis took a moment to reflect on the enormity of Ray's gift. Steven worked hard to keep his emotions in check.
"I've slept about two hours a night all this week, just thinking about this gift of life that he's giving me," he said.
"I've slept like a baby," Ray said.
Their surgeries were early on a Friday morning. "I just remember them putting a mask on me and saying it's just oxygen," Steven said. "Then the next thing I remember is waking up. It was over. The whole process was very fast.
"The kidney woke up inside me immediately and was producing urine instantly. It was quite a difference than what I experienced during the previous 10 months."
Ray agreed.
"I had no reservations. Most of my thoughts were about our children — how will they be doing, will they be OK," he said. "My surgery seemed to last just minutes. There was no pain. My surgeon said everything went great and that Steven was doing fine so my mind was at ease."
The next morning, Ray walked to Steven's room to reunite.
"I was relieved to see him in good shape and good spirits," Steven said. "It was a relief to see him looking so good and have the chance to thank him for his generous gift. We then both walked three laps of my hospital floor at full speed. Ray was really shocked how quick and balanced I was."
Their road to recovery
Ray was discharged the next day. Steven wasn't released for another four days.
"We knew we wouldn't be able to do stairs and reach our bedroom on the second floor when we got home. Before our surgeries, we set up two air mattresses for the kids by the fireplace and Ray and I slept in recliners for two nights," Steven said. "We did sleep a lot the first few days. But by the weekend, we were already doing dishes and laundry."
The Naldis quickly were walking two miles a day around their Bloomington, Indiana neighborhood and running errands and buying groceries. They enjoyed getting out for a neighborhood Easter egg hunt with their children. Steven even began working a bit by joining some conference calls but Ray is taking the summer off before going back to work.
"When we fully recover, we told our kids that if they follow everything we need and help us out, we'll get them a puppy," Steven said. "Having dialysis 12 hours a week, that's hindered a lot of our weekend plans – exercising, our kids' events, traveling. But I'm getting back about 650 hours a year of my life thanks to Ray's wonderful gift.
The Naldis also look forward to their annual vacation later this year.
"We play a game, 'Who picks the big trip?' This year, it's Ella's turn," Ray said. "And Ella wants to go to Paris."
A plan for advocacy
The Naldis' experiences have changed their lives in more ways than one.
"While life sciences have advanced tremendously, no one's come up with an artificial kidney yet," Steven said. "Each and every one of us is a medical device factory ourselves. I want to get the word out about living donation and that living donation saves lives."
Both plan to advocate for organ donation through speaking engagements, event participation and education opportunities.
"I want people to know how pain free living donation is," Ray said. "I'm proof that you can live a full life doing everything you did before."